FREE Lundberg Letter: LL 08/25/2020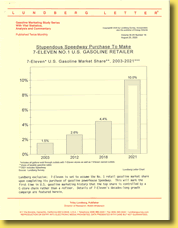 Exclusive findings on a C-store Super Star:

Stupendous Speedway Purchase to Make 7-Eleven No.1 U.S. Gasoline Retailer

How will store and gasoline brands shake out? The 8/25/20 issue of LUNDBERG LETTER provides statistics, graphics, and interpretation of the imminent mega-deal. It will impact competitive conditions across the nation.