Special Report Available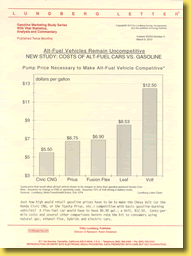 With higher gasoline prices and continued government incentives, are alternative fuel vehicles poised to take huge market share of the fleet? Just how high would retail gasoline prices have to be to make the Volt, Civic CNG or Prius competitive? In this report we show cents per mile cost of fuel and of depreciation for seven different 4-door sedans.
Email lsi@lundbergsurvey.com or call Crystal Vance, 805-383-2400, for more information. Thanks in advance for your interest.
---
Tel:(805)383-2400 Email:lsi@lundbergsurvey.com Fax:(805)383-2424