Lundberg Letter - June 19, 2015: Despite Gov't Handicaps,
GASOLINE CARS STILL TROUNCE ALTERNATIVES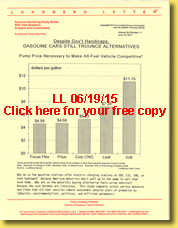 Why do so few gasoline stations offer electric charging stations or E85, E15, CNG, or even hydrogen? Because American motorists don't pull up to the pump in cars that need them. Why are so few motorists buying alternative fuels-using vehicles? Because the cost burdens are ridiculous. This study compares across various measures and finds that alt-fuel vehicles remain uneconomic despite years of promotion by lobbyists, environmentalists, politicos, and afflicted automakers.



This study is available free of charge to industry readers. Just click on the newsletter image to submit your request.

After you read your free report, please do us the courtesy of emailing theletter@lundbergsurvey.com to share your impressions, order your ongoing LL subscription, or order one of our many statistical series. Thank you.