Lundberg Letter - May 22, 2015: Thanks to Global Warming-Heated Regs,
CALIFORNIA MOTORISTS GET FUC FEE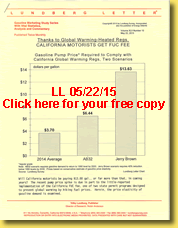 Will California motorists be paying $13.00 gal., or far more than that, in coming years? The recent pump price spike is due in part to the little-reported implementation of the California FUC fee, one of two state permit programs designed to prevent global warming by hiking fuel prices. Herein, the price elasticity of gasoline demand is examined.



This study is available free of charge to industry readers. Just click on the newsletter image to submit your request.

After you read your free report, please do us the courtesy of emailing theletter@lundbergsurvey.com to share your impressions, order your ongoing LL subscription, or order one of our many statistical series. Thank you.