Lundberg Letter - November 6, 2014: Another Record High - C-STORES' GROWING CLOUT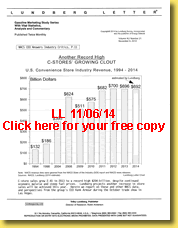 C-store sales grew 2.4% in 2013 to a record high $204-billion, despite continued economic malaise and steep fuel prices. Lundberg projects another increase in store sales will be achieved this year. Herein we report on these and other NACS data, and perspectives from the group's CEO Hank Armour during the October trade show in Las Vegas.



This study is available free of charge to industry readers. Just click on the newsletter image to submit your request.

After you read your free report, please do us the courtesy of emailing theletter@lundbergsurvey.com to share your impressions, order your ongoing LL subscription, or order one of our many statistical series. Thank you.