Lundberg Letter - December 12, 2014: Don't Point to OPEC - WHY THE RECENT OIL PRICE CRASH?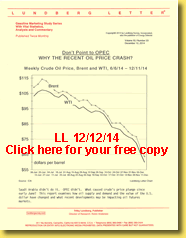 Saudi Arabia didn't do it. OPEC didn't. What caused crude's price plunge since early June? This report examines how oil supply and demand and the value of the U.S. dollar have changed and what recent developments may be impacting oil futures markets.



This study is available free of charge to industry readers. Just click on the newsletter image to submit your request.

After you read your free report, please do us the courtesy of emailing theletter@lundbergsurvey.com to share your impressions, order your ongoing LL subscription, or order one of our many statistical series. Thank you.